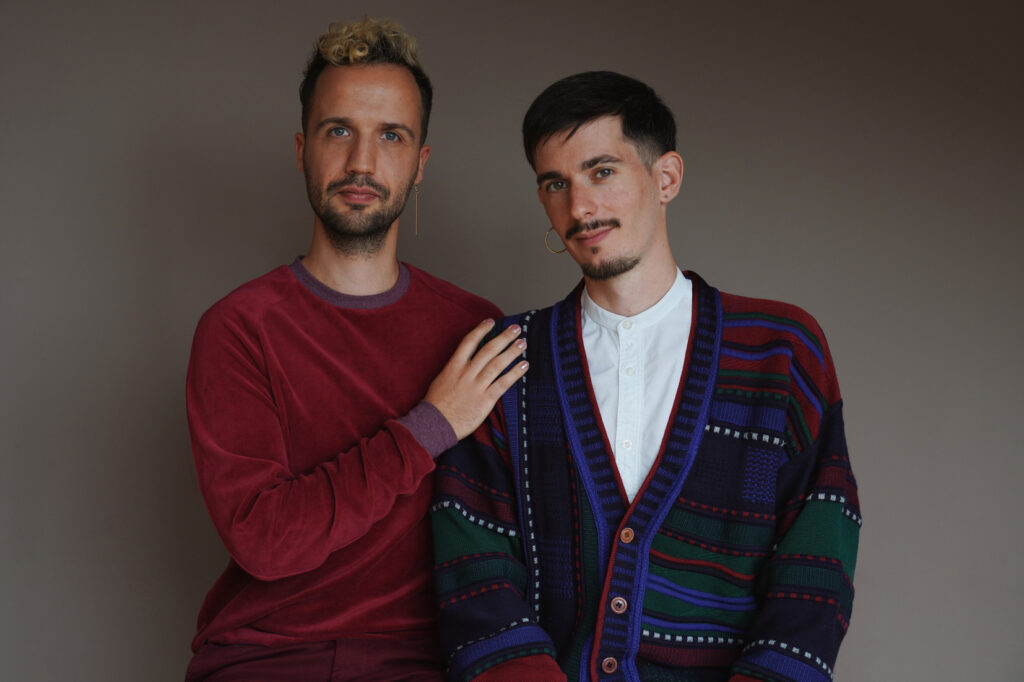 Federico & Wenzel Vöcks de Schwindt have shared a partnership that extends from their private life to their artistic collaborations since 2014. They were invited to perform their first jointly developed performance On the first night we looked at maps at the Performing Arts Festival Berlin (selected for the newcomers' platform Introducing…), the Furore Festival in Ludwigsburg and the Festival Opera Prima in Rovigo (Italy) as well as recently at the TD Berlin and WUK Theater Quartier in Halle. Their artistic work currently focuses on questions of queer heritage, Eastern German identities and migration, as well as critical performative explorations of masculinities.
---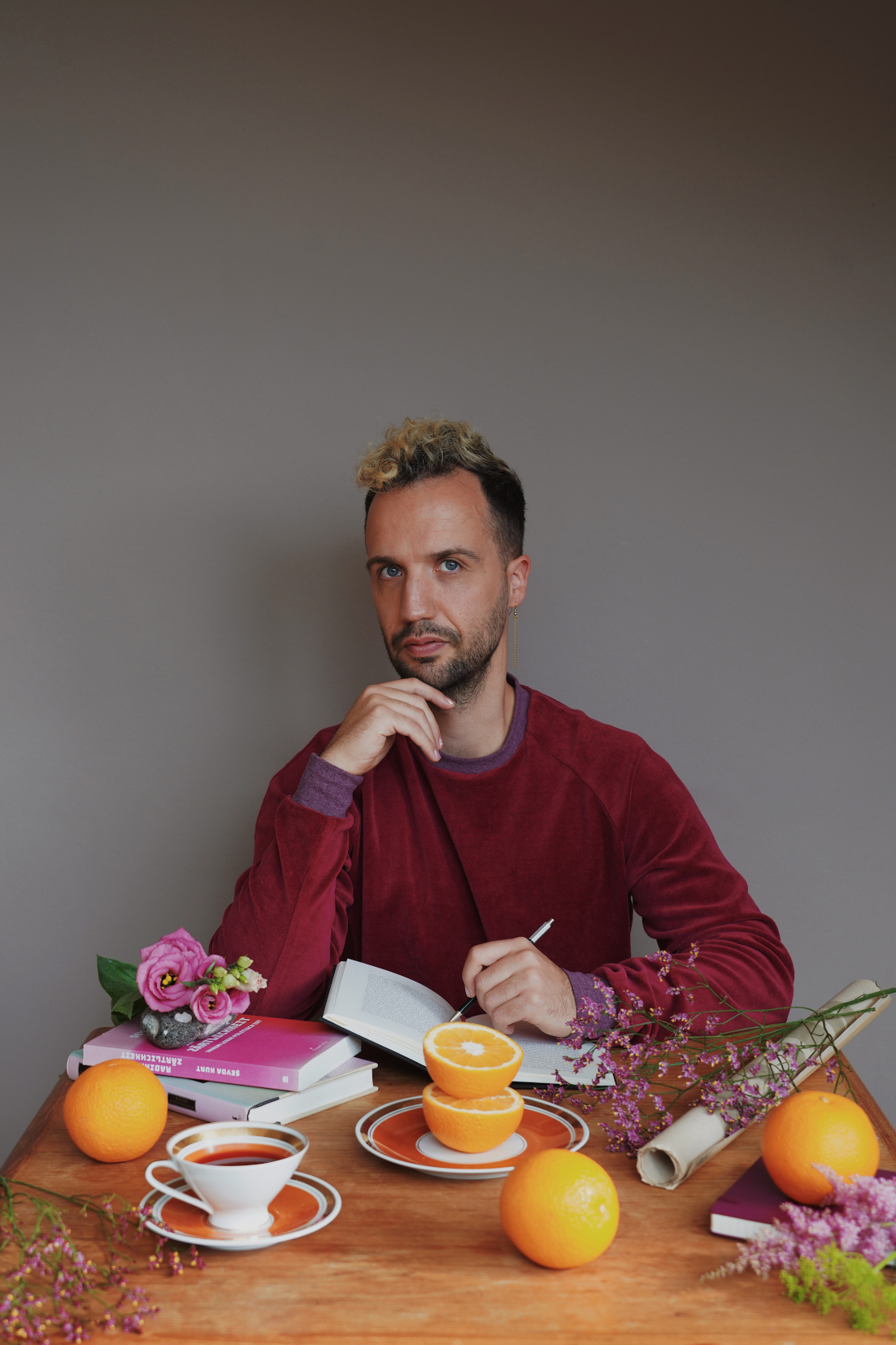 Wenzel Vöcks de Schwindt studied Performance Studies and History of Art at the Freie Universität Berlin and at the Università Roma Tre in Rome. He worked as Performance Director and Assistant Director at various opera houses, including the Komische Oper Berlin, the Teatro alla Scala as well as the Opera Vlaanderen, where he was collaborating with renowned directors such as Robert Carsen, Barrie Kosky, Sidi Larbi Cherkaoui, Calixto Bieito, Stefan Herheim and Andreas Homoki.
As Associate Director he worked with Jasmina Hadziahmetovic on the stage production of Hans Zender's adaptation of Schuberts 'Winterreise' in 2016 at the Théâtres de la Ville de Luxembourg and in 2017 at the Opéra Comique Paris.
In 2012 Wenzel made his debut as an Opera Director with the production of Handel's Aci, Galatea e Polifemo, which was shown in several clubs around Berlin. At the Performing Arts Festival Berlin 2017 he was granted the role of Dramaturge for the production of Hawaiian Fragments by his husband the Argentinian director Federico Vöcks de Schwindt.
Together with him Wenzel premiered in 2019 On the first night we looked at maps a documentary performance on the topic of migration in history connected with the story of an international gay couple looking to build a shared identity. They were invited to perform the piece at the Performing Arts Festival Berlin 2020 (selected for the newcomers' platform Introducing…), the FURORE Festival in Ludwigsburg and the Szenario Festival in Lüneburg.
In 2020 he premiered together with the tenor Daniel Arnaldos Listening to Peter & Ben, a performance to explore the possibilities of hearing as a dynamic phenomenon, using a historical recording of the composer and pianist Benjamin Britten and his partner the tenor Peter Pears to uncover an acoustical queer heritage.
The premiere of his new music theatre piece Ubi caritas et amor that pits Gregorian chant against dribbling basketballs, being on a quest for forms of closeness and intimacy between men, is scheduled for Feburary 2022 at Ballhaus Ost and at LOFFT – DAS THEATER in Leipzig.
He was a scholar of the festival Mannheimer Mozartsommer and the Richard Wagner Association Berlin.
Furthermore he works for the education department of the Staatsoper Berlin.
Wenzel is now focusing on the development of new creations in the field of performance and music theatre.
---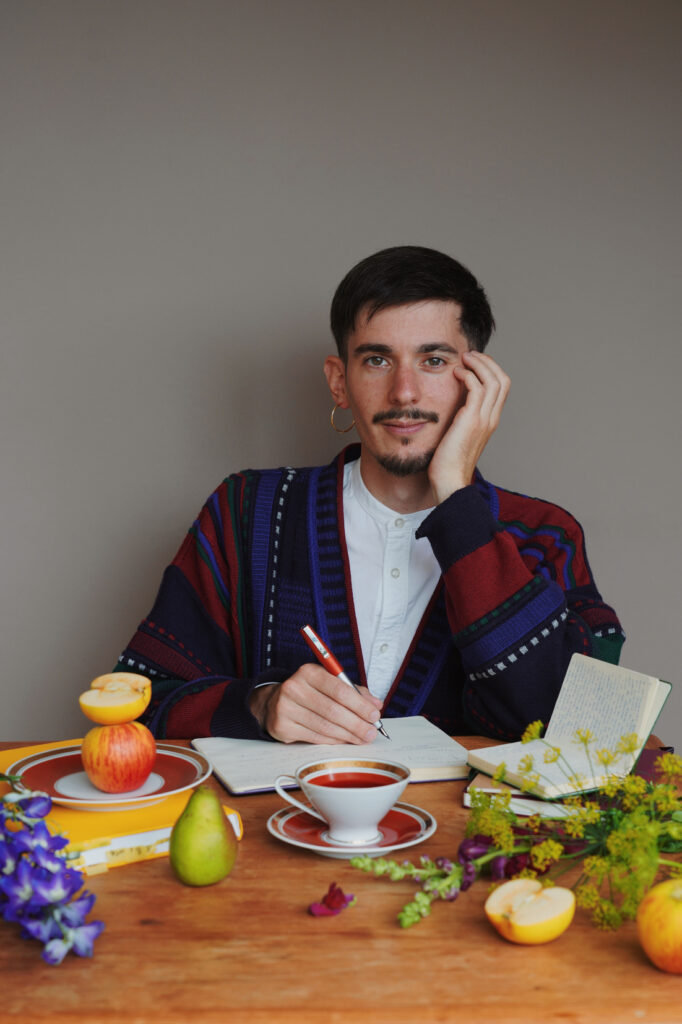 Federico Vöcks de Schwindt grew up in Buenos Aires, Argentina where he studied to become a theater director at the Universidad Nacional de Arte.  His professional life started in the buzzing independent scene of Buenos Aires where he directed pieces of renowned authors as well of my own authorship.
Since 2015 he is a Berlin based artist and a resident artist at TATWERK | Performative Forschung. As a director his work continues to take place mostly in the context of the Berlin Freie Darstellende Künste. In 2020 his piece together with Wenzel On the first night we looked at Maps was selected to be presented in the platform Introducing… of the Performing Arts Festival Berlin and later at FURORE – International festvial for young theatre. In 2021 he will be premiering EPISODIO in TD Berlin, a theatrical epic constructed from videos found online.
---
About Federico's artistic work:
Walking the fine line between theater and performance, his work seeks to integrate the craft of acting and the versatility it provides with the raw and transparent approach of contemporary performance.
Swimming freely through formats and genres, he produces materials that deal in a playful way with a critical reality, placing an emphasis on the unexpected, the obscure as well as on the humorous.
Identity, feeling foreign, isolation, loneliness, information overload and how we interact with the virtual world and its fictions are some of the topics that currently inspire him and concern him the most.
At the same time he believes that every new content needs a new unique poetic form to emerge. That is why he finds it key to carry out intense aesthetic research periods before the beginning of each project.
Moreover, his work is always the result of long term cooperations with artists through different projects and he places a big importance on the continuity and mutual trust to go deeper that this provides.
---